Orthopaedic care within a network of excellence
Our musculoskeletal system is a powerful, complex machine with many parts. To run smoothly, it needs the very highest levels of professional care. We manage a wide range of orthopaedic conditions such as fractures and tendonitis to congenital orthopaedic conditions such as kyphosis. At HCA UK, we make the most complex surgery appear routine, where no case is too difficult, from complex fractures to spinal conditions and nerve damage.
Our Orthopaedic Care services cover all areas of the musculoskeletal system and is split into the main areas of the body covering, Hip and Pelvis, Knee, Shoulder and Elbow, the Spine, the Hand and Wrist, the Foot and Ankle and the Peripheral Nerve. At HCA UK, we have orthopaedic consultants who specialise in all areas, and many who specialise in sport related injuries. Every HCA UK patient can expect individual care before, during and after their treatment.
Leaders in
orthopaedics
Our consultants are internationally respected in the field of orthopaedics and many hold senior posts in some of the UK's top teaching hospitals.
A large volume of procedures are performed each year, making it one of London's largest orthopaedic networks of excellence. With us, you'll receive expert-led care throughout your whole treatment, from diagnosis right through to recovery and rehabilitation.
For
self-paying

patients

We offer fixed price packages for knee and hip replacement surgery. All hospital costs associated directly with the replacement procedure are confirmed beforehand, giving you the reassurance of knowing what the costs will be.

Once a diagnosis and treatment plan are confirmed by your consultant, a Fixed Price package quote will be provided, if suitable.

There are two package prices available for hip replacements and partial or total knee replacements:

Standard primary hip replacement

Robotic assisted hip replacement or premium prosthesis

Partial or total standard knee replacement

Robotic assisted partial or total knee replacement or premium prosthesis

After meeting your consultant and completing any diagnostic tests, your treatment plan will be discussed and you will be advised if you are eligible for a fixed price package. Thereafter it will be easy to book and you will have peace of mind knowing what the associated costs will be.
Orthopaedics: the HCA UK difference
Exclusive, pioneering orthopaedic treatments

Cutting-edge diagnostics and orthopaedic technology

Pre and post care for faster recovery

Multidisciplinary orthopaedic team

including nursing and physiotherapy

Fully-staffed, ICU back-up

for complex orthopaedic surgery

The highest volume of orthopaedic procedures in London

Fixed price packages for hip and knee replacement surgeries for self-pay patients
Fast

orthopaedic diagnosis across London

We offer same-day orthopaedic diagnosis for

sports injuries

, degenerative muscle diseases,

knee pain

,

back pain

and arthritis at convenient centres across London. We continually invest in the latest imaging technology and scanners, and offer everything from x-ray to

SPECT-CT

, for speedy, accurate diagnosis.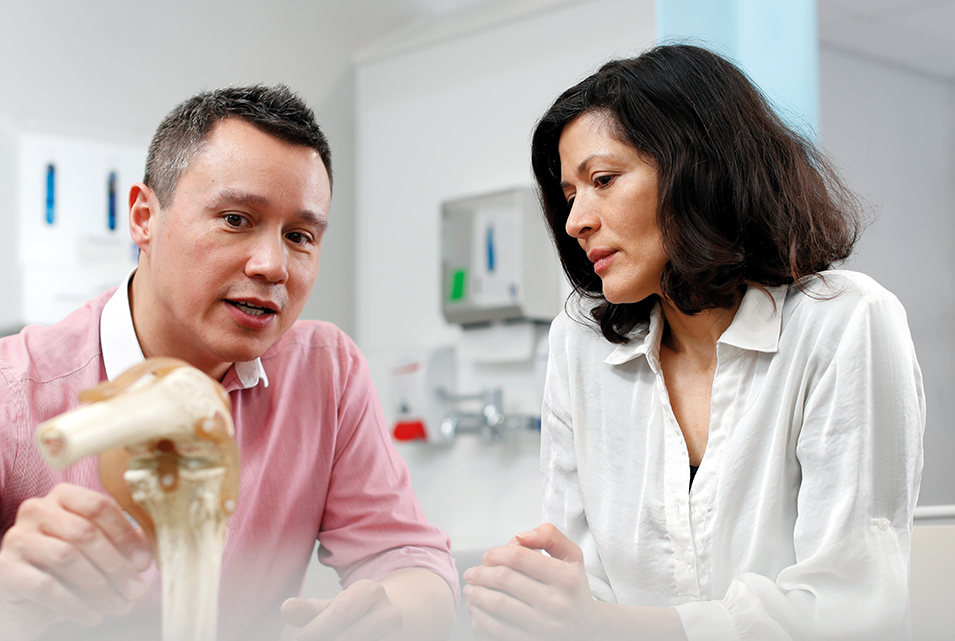 Bespoke orthopaedic treatment and personalised care
Our aim is to get you back to an enjoyable, pain-free life as soon as possible. To do this, we'll devise a personalised care programme for you.

You will receive bespoke diagnosis and treatment at one of our premium orthopaedic centres across London, and you'll choose the best time and location to suit your needs.

You'll also have access to the very best sub-specialists for your condition, and the highest-quality care in a safe and caring environment.
Care before, during and after treatment
At HCA UK, orthopaedic treatment doesn't begin and end at surgery. We know that pre-care and preparation leads to better surgical outcomes, less risk and faster recovery.

That's why our multi-disciplinary teams of orthopaedic nurses specialists, nutritionists and physiotherapists will help you prepare for surgery, and care for you afterwards. This means a defined treatment programme, clear surgical outcomes and less time off your feet.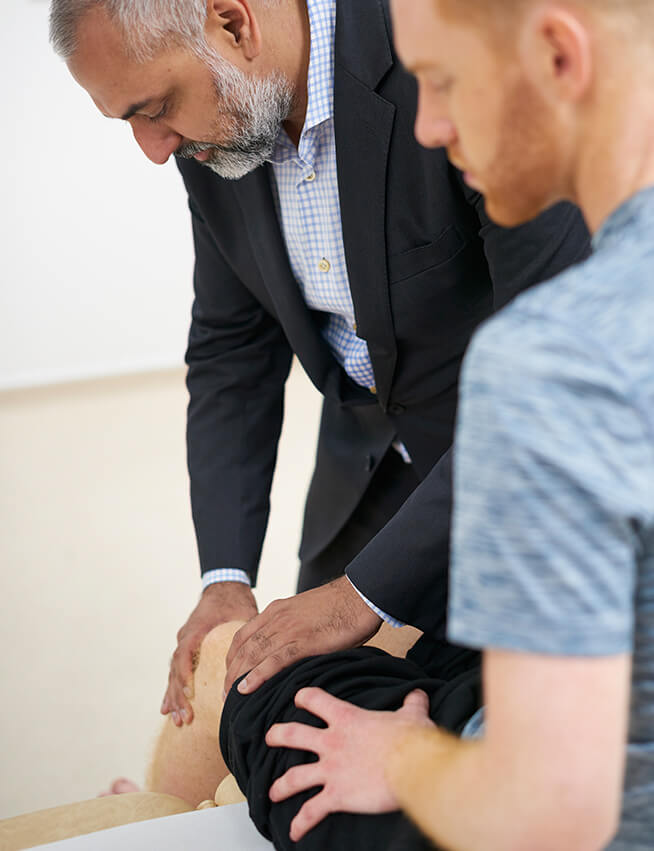 Pioneering technology
We push the boundaries of medicine at HCA UK every day, driving innovation and pioneering new treatments. Orthopaedic care is no exception.
From minimally invasive muscle-sparing hip replacements using the anterior approach to the hip joint, to 3D hip replacements, Orthobiologics and the Mako Robotic arm technology, we're a private healthcare company that continually adopts new innovations that improve patient outcomes.
This means we can offer the most advanced treatments to our patients, reducing risk and recovery time, and why we're the provider of choice for many national sporting teams and elite athletes.
Diagnosis and treatments
Here are some of our most sought after orthopaedic treatments.
Our orthopaedic locations
Our hospitals and facilities are internationally recognised for the orthopaedic services offered to our patients.
Request an
orthopaedic appointment
We're happy to help you make an appointment with an experienced orthopaedic or sports medicine consultant. We can also arrange imaging and outpatient physiotherapy appointments.
Call us today
020 7079 4344